Back to School Furniture Guide 2022
With back-to-school just around the corner, it is time to make sure that your facility has everything you need to provide a good environment for learning. Worthington Direct is here to help by providing all the specialized school furniture and classroom equipment you'll need. From makerspace to music, science, art, and active spaces, we have top-quality furniture from industry-leading brands.
Find the last few items of furniture you need for your classrooms and educational spaces. Or take the opportunity to upgrade your existing items. From science lab to early education furniture, you can find it all at Worthington Direct.
Collaborative Classroom Furniture
A collaborative classroom encourages learning. You need places for students to sit, from individual chairs and desks to group tables with the appropriate seating arrangements. Consider Marco Group classroom packages as an easy option to order for an entire classroom or even several at once.
Or consider options like Smith System collaborative desks that let you add rollers or glides to the bottom of the desks, making them easier to rearrange for different lessons. Group tables, like those from Paragon, are also excellent options. Then, all that's left is to choose the chairs to go with them.
Science Lab Furniture
No matter the age of your students, hands-on experience is crucial to learning. Science lab furniture is one of the best ways to ensure they can learn by doing, especially in the sciences. Worthington Direct has safety stations, lab tables, storage systems, and more.
Our workstations for science labs come in all sizes, shapes, and designs. Choose units with or without sinks and between ones with drawers and cabinets or empty space underneath in the form of basic lab tables. Of course, you will need seating for the workstations, and steel frame stools are the ideal choice.
Makerspace Furniture
When it comes to hands-on learning, the makerspace has become an important area of the school. Many libraries are being outfitted with maker labs. Libraries are utilizing space that has been freed-up by the advances in technology. With the popularity of school robotics clubs and engineering teams schools are establishing dedicated makerspaces to accommodate these hands-on activities.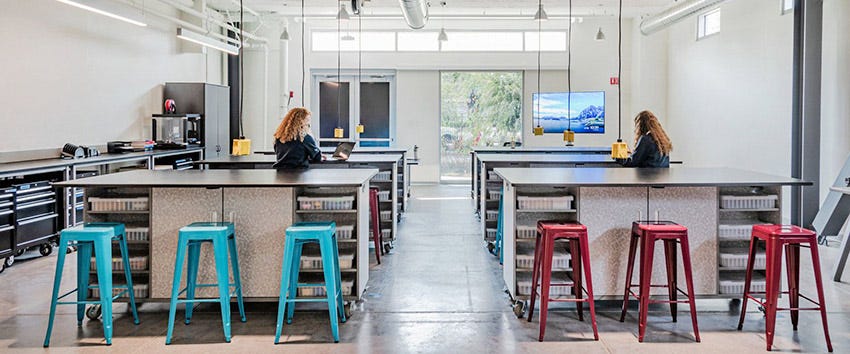 Trade and specialized skills are also having a much needed resurgence in schools. Get sturdy shop tables to teach older students real-world skills. Tool storage is essential to teach organization and proper equipment maintenance. Whether a wood shop or another type of makerspace, you'll need an all-purpose storage cabinet for supplies.
If your school doesn't have space for a dedicated fab lab or makerspace, consider a Rover makerspace table from Haskell Education. Take your DIY spirit anywhere on campus with these mobile makerspace stations.
Computer and E-Sports Lab Furniture
Computer labs are now sprinkled throughout the school, with stations in multiple classrooms, and we have the furniture to equip these computer stations. Even if your school does not have a fully dedicated technology lab, create small computer learning stations within each classroom for center rotations. Consider an option from Smith System that fits two computers and students, complete with spots for towers and wire management.
Computer tables are designed to hold the weight of bulky desktop computers without bowing and can certainly accommodate laptops with ease. However you compute, there's tech furniture here to support you.

Supplement your chosen computer tables with Apex Series chairs that are just comfortable enough to help students learn without letting them relax too much. Below are some of our most popular computer chairs that range in design. Find the perfect moible chair for the future IT crowd.

A popular option for library media centers or even classrooms with limited space, are multimedia furniture sets from Marco with a group table and chairs to share a screen. This is great for in-person learning or even for telecomm learning across the globe.
The main difference between this and a standard activity table is that these have options for built-in charging outlets on the table top for access by the entire working group.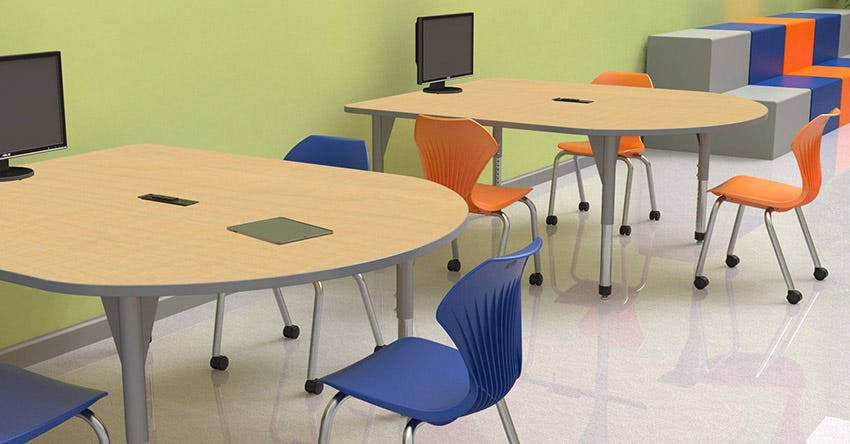 Flex Tutorial Room Furniture
Some of the hardest spaces to plan for are those that will be flexible and have various uses, but we have plenty of great choices for those as well. For example, consider Mooreco dry erase creator tables with chairs, making it easy to teach or brainstorm.
Or combine mobile whiteboards with a range of seating options. From traditional chairs to soft surfaces of all shapes and sizes, students will get to learn in comfort.

Cafeteria Breakroom Furniture
When getting furniture for the classroom, don't forget about the break areas, like the cafeteria. Your students need somewhere to sit while refueling or relaxing between lessons. We have a range of tables specifically designed for the lunchroom, including traditional cafeteria options.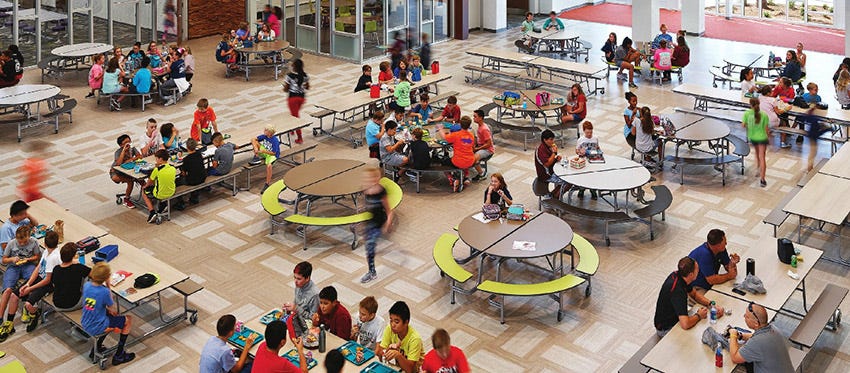 You can also choose a set of tables and chairs that will make your students feel more like adults, such as those seen in restaurants or breakrooms. If your school has an outdoor seating area, we also have picnic tables perfect for setting up outside.
Early Education Furniture
Early education classrooms have unique needs, as you need storage for toys and bags in addition to tables and chairs. Find a wide selection of cubbies that work well for storing toys or kids' personal items.
Don't forget to find the perfect classroom rug to keep your students engaged during rug time while also teaching them some important lessons. For those more active times, get some child-sized activity tables perfect for hands-on activities.

How can we help you?
Now is the time to make sure you have all the furniture you need for the 2022-2023 school year. The team at Worthington Direct is ready to assist you in your next purchase. Contact us with product questions or to receive a volume quote prior to placing your purchase order.
The Worthington Direct staff is easy to reach during business hours via chat, email or by phone. If you are burning the midnight oil hunting for school furniture, please use the contact form and someone will be back in touch the next business day.