A child's educational environment has a significant impact on learning readiness. For example, did you know that the incorporation of biophilic design in educational spaces could lead to measurable results? A 
2015 study
 underscores the connection between green space availability and children's learning capabilities.
Biophilic Design for Educational Spaces Boost Brain Development and Reduces Inattentiveness
So what is biophilic design?
According to
Wikipedia
, biophilic design is a concept used within the building industry to increase occupant connectivity to the natural environment through the use of direct nature, indirect nature, and space and place conditions. Used at both the building and city-scale, it is argued that this idea has health, environmental, and economic benefits for building occupants and urban environments, with few drawbacks. Although its name was coined in recent history, indicators of biophilic design have been seen in architecture from as far back as the 
Hanging Gardens of Babylon
Introducing Natural Components into Your Existing Classroom
[caption id="" align="alignleft" width="350"]
Mobile Garden Center by Whitney Brothers[/caption] Of course, for many schools and other educational facilities, it is not possible to wait until greenery will take root and grow up around a building. Therefore, it makes the most sense to incorporate biophilic design within the learning environment. Doing so includes the use of natural light,
changing the flow of the classroom space
, and even integrating water features.
Practical Options for Biophilic Design Elements
Adjusting your learning space does not call for drastic measures. In fact, the addition of several budget-friendly solutions can combine to create an atmosphere that benefits young learners. [caption id="" align="alignright" width="223"]
Hydroponics Growing Center by Diversified Woodcrafts[/caption]
Hydroponics growing system
. This self-contained unit is a fantastic method for bringing nature inside the classroom. There is no need to include messy soil. Instead, you feature a maple wood shelving unit that contains the plant tray, nutrient reservoir, lighting, and pumps. It is easy to integrate into your current classroom and offers valuable educational benefits along with the natural component.
Activity center
. Crafted from non-toxic, acetylated wood, this activity center is the ideal learning station in a busy daycare, preschool, or kindergarten classroom. It accommodates multiple children for hands-on activities outdoors and defies the elements in any season from shrinking, warping and rotting. 
Runtz™ ball chairs
. Organic forms are just as desirable as natural wood and plant material. These ball chairs feature vibrant colors, remind of mushrooms on the outside, and feature antimicrobial surfaces for easy cleaning. Add the GreenGuard certification, and you have a fantastic alternative to standard plastic chairs as you build a biophilic classroom.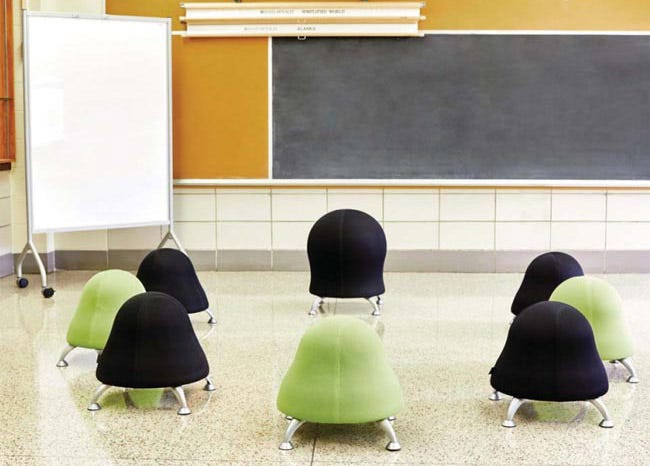 If you are uncertain how to find suitable products that easily work with the tables and general layout of the classroom experience you already have, let our experts assist you. Worthington Direct specialists understand your needs; 
contact us
 today to transform your classroom!