Eating lunch outside is a favorite of workers and students alike. With the weather warm and the sun shining, it's time to head outdoors and enjoy a meal under the cozy light. Does your space have outdoor furniture to accommodate everyone? Here are our favorite all-weather furniture selections for schools and offices.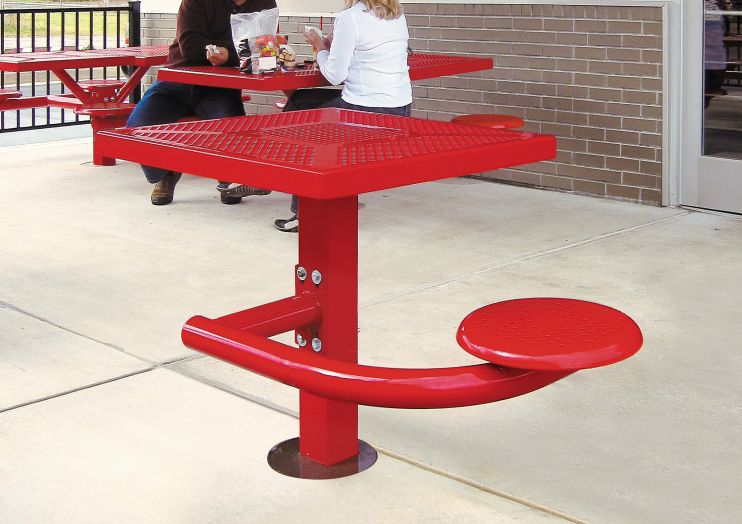 A Gorilla Bench by UltraPlay is an Excellent Choice for Preschools, Kindergartens, and Elementary Schools
The durable Gorilla Bench comes in 14 fun colors that makes it suitable for any school palette. What sets this bench apart from so many others, is the powder-coat finish that effectively seals in color and prevents scratches, chips, and rust.
Canteen Tables by UltraPlay Offer Various Design Configurations for Schools, Cafeterias, and Office Patios
The basic Canteen Table is a one-seater. If you are enforcing social distancing on your property, it makes sense to mount these with the appropriate spacing. When you are looking forward to a time when distancing regulations are eased, there are two and four-seat products. Of course, you can always mix and match them to suit your location.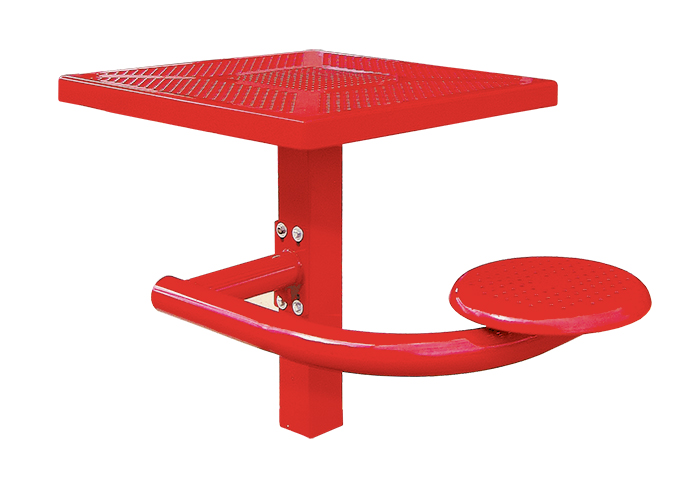 The surfaces feature a thermoplastic coating that ensures durability. The tops are perforated to let water drain. Rounded edges make this outdoor furniture safe to use for elementary and middle schools. Surface-mount the canteen tables for easy movement or secure them permanently with in-ground installation.
Select Outdoor Desks for Social Distancing by Diversified Metal Fabricators
If you are eyeing the grassy area or playground as an outdoor classroom or for assembly overflows, you cannot go wrong with Open Air Desks. They are portable, suitable for surface mounting, or available for in-ground installation.
Tops are manufactured from steel with a powder coating finish. They are sufficiently spacious to offer room for a laptop or notebook, writing utensils, and books. Choose from four different colors. When you pick perforated surfaces, cleanup is as simple as using a hose with a cleaning solution applicator attached.
Workplace Patios Look Great with Elegant Ivy Series Round Outdoor Table & Chair Sets by Olio Designs
The Ivy Series Round Outdoor Tables with matching chairs bring elegance and versatility to the patio. Chairs may be at the standard 29-inch café height or the 41-inch bar height. Mix and match designer white and fashion gray colors for an attractive combination of outdoor tables. Surfaces resist water damage, corrosion, and fire. The furnishings are stable and easy to clean as well as sanitize.
Of course, these are just some of the outdoor furniture selections that are open to you. Contact Worthington Direct today to find out about additional commercial and school furniture options.