A classroom rug can be a fun and functional educational tool.  It not only adds color to your classroom, but it can also be used to enhance the overall learning experience.  So, here are some ways that your preschool rugs can become a dynamic tool in your classroom.
Putting Your Grid Carpets to Use
The 
Learning Grid Carpet by Flagship Carpets
 is a great way to add a major splash of color to your classroom. All rugs by Flagship Carpets are treated with an anti-microbial agent, making them an ideal choice for the preschool environment. This versatile rug becomes your math lesson when you use it to create a living graph. For example, ask your students any data-driven question such as what is your favorite pizza topping. Students who choose cheese can stand on red squares.  Those who favor pepperoni can stand on yellow squares. Students who pick sausage can stand on green squares, and students who prefer vegetarian can stand on blue squares. They will easily be able to see a visual representation of the data they have just collected. You can then ask follow-up questions, like which topping is the most or least popular? Or, how many children like pepperoni and sausage? Then all of a sudden, your math lesson has become a completely immersive experience. [caption id="" align="aligncenter" width="732"]
A Colorful, Fun Learning Rug by Flagship Carpets[/caption] If you're looking for something a bit more atypical, the 
Colorful Grid Carpet by Learning Carpets
 is a great option for you. The high-twist 100% nylon ensures durability that is backed by a Lifetime Limited Wear Warranty. This carpet can be used with a variety of different management strategies, since it's composed with 28 brightly colored squares! As your children sit or stand on their own square, use the colors from the rug as a way to add spontaneity to how you call on students. Call on the children positioned on orange squares to help you count to 20. Call on the children on purple squares to sing the ABCs. The possibilities are limitless. [caption id="attachment_3758" align="aligncenter" width="665"]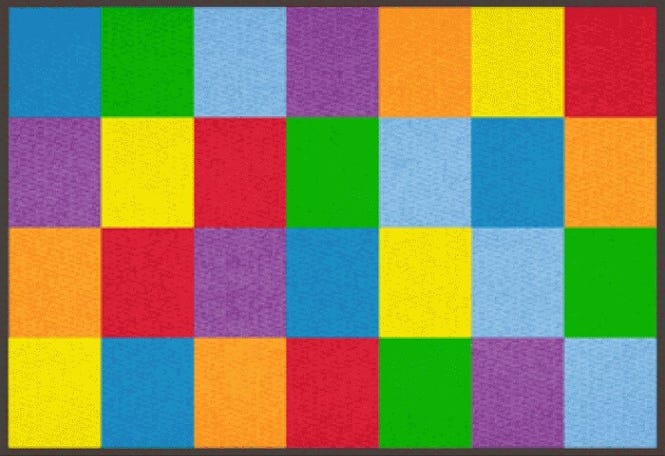 Colorful Grid Carpets Can Enhance Any Classroom[/caption]
Enhance Your Space with an Activity Rug
The 
Robot Invasion Carpet by Joy Carpets
 will inspire creativity in your young learners. This carpet features lifetime stain, bleach, anti-microbial, and anti-static protection. The individual robots make excellent sit spots for your students, but that's not all these robots can do. Let the quirky creatures spark the imagination.  Select a robot and use it as the subject of a story. Where is the robot from? What special skills does the robot have? Who are the robot's friends? Students will love using their imaginations to write adventures for each of the funny creatures on the Robot Invasion Carpet. [caption id="" align="aligncenter" width="651"]
Robot Invasion Carpet by Joy Carpets[/caption] Classroom rugs are an integral part of the preschool classroom.  They provide space for circle time and group activities. They also add interest and playfulness to the learning environment.  And, with a little ingenuity, your rug becomes a dynamic curricular tool. Find more preschool furniture carpet options to enhance learning in the classroom
here
.