Lobby & Waiting Room Reception Seating Buyer's Guide
Your company's lobby and waiting room provide a first impression to all visitors. In addition to aesthetics and practicality, the furniture you choose for a space should be easy to clean and hold up over time.





Lobby and waiting room furniture investments are big-ticket items intended to last over a long period of time. Replacing it every few years is not feasible. Remember, the furniture you use reflects your employees and your brand, so finding pieces that fit is a fundamental part of your initial room design. Once you make the decision, rest easy knowing that your investment will serve you well for years to come. Here are some of the primary considerations when it is time to look at new furniture for your main office seating areas.


Layout

Depending on the size of your space, you may be able to work with a number of different design patterns. Rows tend to be popular in automotive repair shop waiting rooms; however, healthcare settings prefer to line walls with chairs and cluster seating in the center of the room. Think about the type of visitors the space will support before deciding on a layout. Once you decide on the layout and the type of patrons, purchasing furniture is a much simpler process.

In business settings and schools, you may choose to be more decorative in your waiting room or lobby design. Keep seating in groups of 4-6 to accommodate individuals who will use the space for impromptu meetings. A popular layout is to have two sets of chairs facing each other with a smaller table in the center for refreshments or as a workspace. This layout works well in leasing offices.


Sizing and Numbers

Consider the number of individuals you will need to accommodate on a regular basis. In a healthcare setting, your waiting room may need to be able to seat anywhere from 10-30 individuals at a time, depending on your practice size and wait times. In most other settings, the seats available may number between 4 and 10. Make sure that you leave enough space for standing room if an area gets crowded.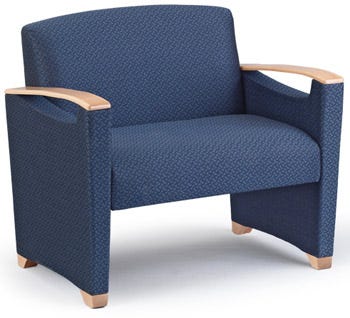 While there are standard sizes of most waiting room and lobby chairs, you should also consider including a couple of bariatric seating options. Aim for oversized seat for every 6 to 8 chairs in the area. Having these accommodations decreases the chance of unintentionally humiliating your clientele and is a very thoughtful gesture.


Type of Seating

Your setting will likely dictate the best seating for your space. Here are some of the more popular types of seating options that may work well for your space:
Attached seats - Sets of attached seating work well in spaces where individuals will not be waiting long. Try to choose armed chairs if you expect to see large crowds of people who may not want to sit too close to another patron. These seats also work well in high traffic areas because they cannot be moved, so your employees will not have to constantly reshape the area after visitors depart.

Modular seating – If you anticipate changing the layout of your space, you can achieve a chic look with modular seating arranged in any number of configurations. Available in durable materials, these seats are perfect for small or growing spaces, and they look very professional, too.




Mix and match pieces – To keep your environment from feeling too school-like or institutional, consider mobile pieces that accommodate an array of different seating preferences. Our Lenox Series Reception Seating is available in benches, armchairs, tables, and grouped seating configurations. Mix and match colors and styles to create a new environment and mix things up.

Modern styles – For hair salons, real estate offices, and other modern-styled areas, consider adding personality to your design with soft ottoman seating. These chairs accommodate multiple configurations, or you can choose mobile lounge chairs that are both comfortable and easy to reconfigure.

Tablet armed chairs – Libraries and academic settings prefer these easygoing chairs with rotating desk surfaces for tablet work or note taking. Available with cup holders and a number of different coverings, these chairs are a great addition to any lobby environment.

Unique solutions – If you work with kids or you're looking for a unique lobby environment, try the Fatboy series of adult-sized beanbag solutions. Endlessly configurable, these seating solutions are low-profile and fun to use! Great for schools, psychology centers, and modern workspaces, consider adding one as a conversation piece or build your reception area with this interesting option. Alternatively, give your space a sophisticated and modern flair with a sofa bench with opposing backs. Available in a wide variety of colors, these statement pieces are perfect for the center of the room and encourage conversation.

Materials

The materials are just as important for your lobby or reception area. They should be sturdy, easy to move, and easily cleaned. Plastic and vinyl chair coverings are the most sanitary choices for healthcare, school, and other environments, while routine cloth is perfect for an office, hotel, or other professional space.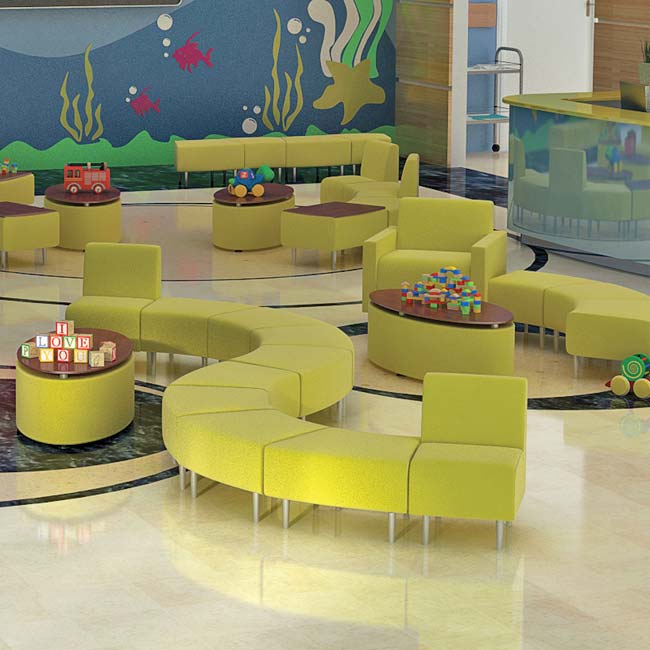 Healthcare enviroments will find a selection of healthcare vinyls that are specifically treated to prevent the spread of germs, and are resistant to bacteria and stains. Polyester covers are comfortable and easy to clean – simply, use a small amount of soap and a damp rag. Leather will last for years and requires nothing more than a good wipe down to clean; it may be more cost-effective than you think.


Other Considerations

When it comes to accessories, look for laminated or glass-topped tables unharmed by condensation or spills. They will look attractive for a long period of time, and most visitors will not pay attention to whether your waiting room table is wood or a laminate composite.

There are a number of fun, classic, and functional styles to choose from when you come to Worthington Direct. Our furniture representatives can point you in the right direction for lobby and waiting room furniture that will work for your space and reflect your company's personality well. For more information about how to get great furniture in your waiting room soon, contact us at (800) 599-6636. We look forward to hearing from you.