Office Desk Buyer's Guide

What Considerations Are Important When Picking Office Desks?
Because people will spend most of their time each week at their office desk, it's important to give the task of selecting a new any and all office furniture due consideration. When choosing an office desk, make sure you consider:
Comfort
Functionality
Aesthetics

All of these attributes can add to the ability of a person to be more efficient while working.  It can also be important to think about the materials used and the available spaces needed as well as the space in which the office desk will be expected to fit in.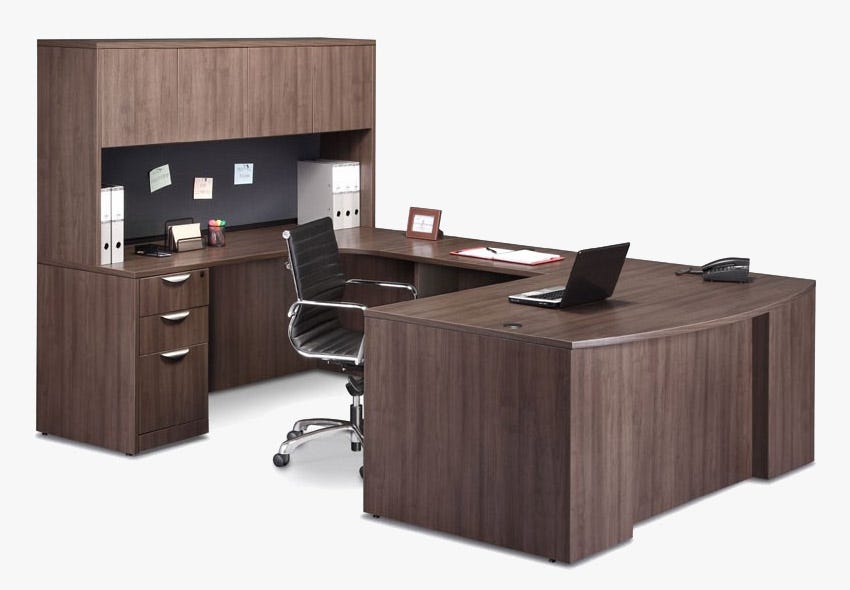 What Materials Are Typically Used for Office Desks?
Most desks come in wood or wood veneer to simulate the look without the higher price. Desks can also come in steel, laminate, and glass. More desks are incorporating unconventional materials, such as white board tops, to allow even more functionality from those who like having the additional space to write.
What Are Some of the Types of Office Desks?
Office desks are not one size fits all. They come in a variety of styles, including:
Executive Desks
Office Suites
L-shaped Desks
U-shaped Desks
Stand-up Desks
Reception Desks and Stations
 
Selecting the right type of desk for the job is one of the critical considerations you should make when purchasing a new desk.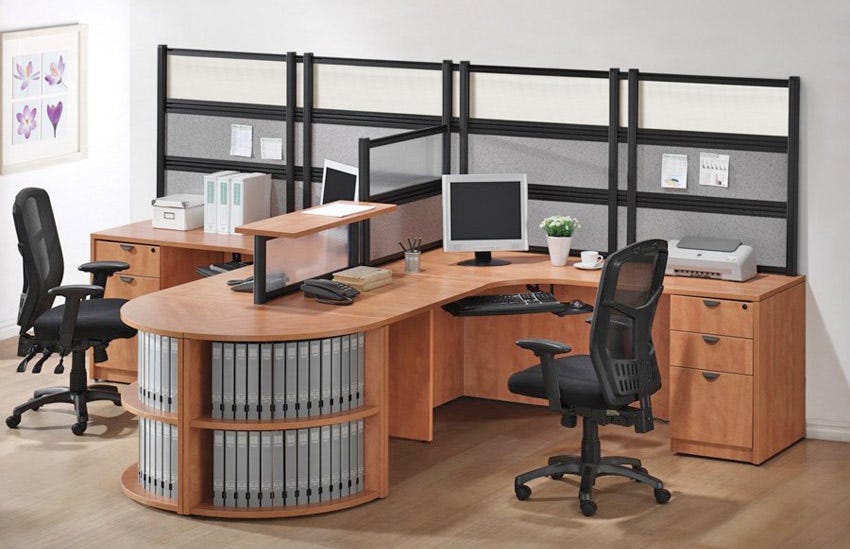 What Is an Executive Desk?
Executives often have other responsibility focuses than your average employee and often need to also accommodate additional interactions, so their office furniture is designed to account for this. As such, they need a desk space that accommodates their workload while also accommodating for working sessions and smooth communication. Executive desks provide larger surface areas and additional storage. They also come in different shapes and colored materials to best fit the design and layout of the office space.
What Is an L-Shaped Desk?
L-shaped desks provide an extra work surface in the form of a right angle, allowing for extra storage under the added surface area. Depending on the desired office layout, an L-shaped desk can fit into the corner of a room or you can place one end along a wall, leaving the other in the floor space.

What Is a U-shaped Desk?
U-shaped desks take L-shaped desks a step further by adding another additional work surface. The U-Shaped desk layout allow for additional full-sized work spaces and providing support for extra storage. These desks are great options for anyone who works with multiple monitors. Such desks can also accommodate multiple users. Despite this versatility, they do not always fit into different rooms after moving.
What Is an Office Suite?
An office suite takes the U-shaped desk to another level by adding hutches and shelving for additional storage and may even include an area meant to facilitate small group working sessions and meetings. The extra shelves often line up against a wall, while the remainder of the desk faces into the room. They provide great office solutions that cover a large area of floor space.
What Is a Stand-Up Desk?
Stand-up desks allow for much greater office flexibility. Instead of staying seated in the same position for a whole day, a stand-up desk allows users to adjust the height of their computer displays or other work surface, enabling standing while at work. This set-up helps combat lethargy and cramps, caused by remaining immobile for extended periods.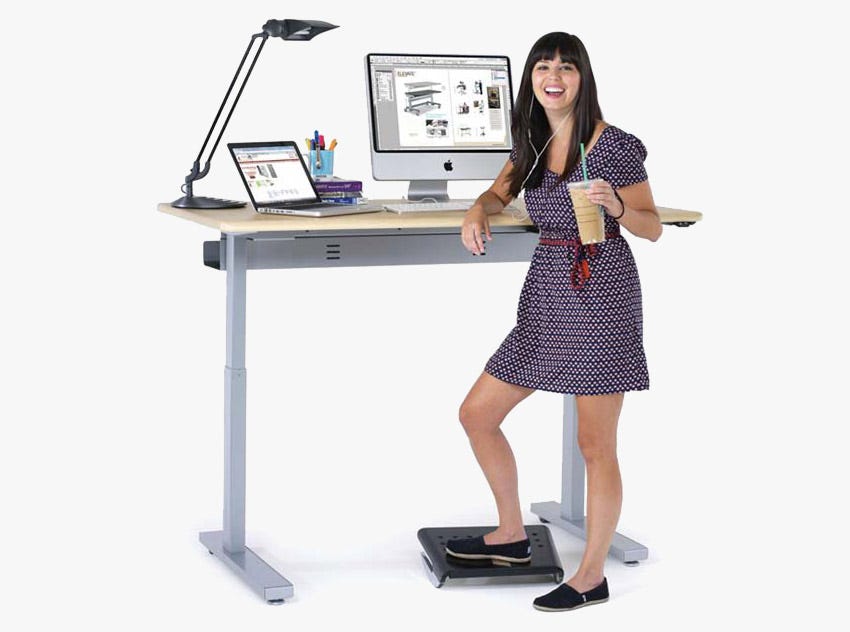 What Is a Reception Desk/Station?
Reception desks sit at the front of offices and provide the initial impression of an office space to the public. Many reception stations have a standing-height counter, which helps keep work private while enabling communication with visitors. The extended counter space allows you to display items important for visitors, such as sign-in sheets and relevant literature.
What Should You Consider When Figuring out What Size Office Desk Is Appropriate?
Different styles of office desks have different size requirements. No matter what type of desk you choose, you will want to make sure that it will comfortably fit into a room and allow for navigation, as well as any other potential desks and furniture that will be in the room.
U-Shaped Desks. With these desks, you need to account for the entire area taken up by the U, not just the surface area. These desks take up a lot of space, so be sure you have ample room to walk and access the back of the desk.
L-Shaped Desks. Before you do any measuring, you first need to determine how the desk will sit in the room (in the corner or one side against the wall). You need to ensure ample walking space to access the desk and for the rest of the room.
Reception Desks. You must account for the desk space as well as the standing-height counter as well for these desks. What space is necessary for work, and how much space will the surrounding counter take up?
Executive Office Suite. Larger than the average desk, an executive office suite will likely be in a bigger room. Even so, you need to account for the suite accessories and extended desk space in the room.
What Does a Credenza or Hutch Add to an Office Desk?
Credenzas allow the addition of another writing surface without investing in a full multi-angle desk. Hutches fit well under credenzas, providing cabinets or bookshelves. Together, you gain a larger work space that is great for spread-out work styles. The addition of vertical storage is also great for making the most of an office area.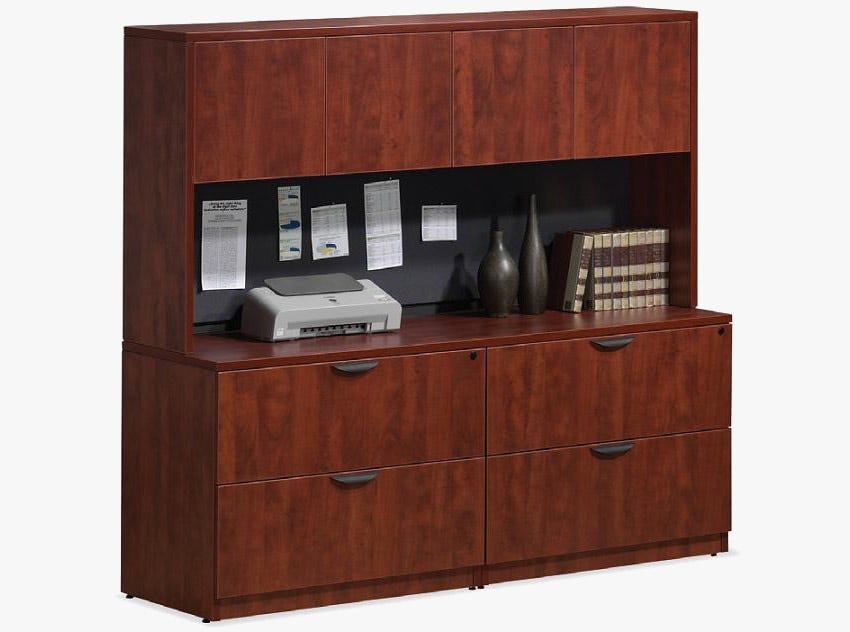 What Are Some of the Most Common Office Desk Accessories?
Besides a core desk, you can take advantage of desk accessories to really make the most of the space. Accessories available include:
Desk lamps
Computers
Embedded power/USB ports
Office chairs
File cabinets
Drawer organizers
Keyboard trays
Locking drawers
Monitor stands
Pen holders
Mouse pads

When you bring these into any work area, a desk can become a powerful location for accomplishing tasks.
Should You Consider the Individual Who Will Use the Office Desk?
Because people spend so much time at their desks, making sure the desk is a comfortable and productive work station is very important. Office desks should consider the user's:

When a desk will be serving one individual, these elements can become much more fine-tuned. When intended for general use, providing a comfortable fit for several potential users is a more relevant concern.
Should a User's Desk Preference Be Considered?
Users may have many potential desk preferences, including stand-up, adjustable height, and "big and tall" accommodations. Likewise, desktop material preference may play a role, such as choosing between wood, glass, laminate, and whiteboard tops. For very specialized desks for one user, these elements be important in making a productive workplace. However, general use desks cannot please everyone, and as such do not require the same level of consideration.