School Chairs Buying Guide and FAQ
What Is a School Chair?
Adults and students in elementary schools, middle and high schools, universities, and a variety of other educational settings use school chairs. They are very durable and can withstand abuse from students. There are many different types, from simple metal chairs to chairs with wheels for teachers and chairs used in computer labs.
What Are Common School Chair Seat Height by Age?
For three- and four-year-old's, chair seats should be about 12 inches tall. For kindergartners, half need the same size as younger children and half need a chair seat 14 inches tall. First-graders and half of second-graders need the same chairs as the larger kindergartners. The other half of the second-graders, all third-graders, and most fourth-graders need seats that are 16 inches tall. For the rest of the fourth-graders and everyone older, the ideal school chair seat is 18 inches tall.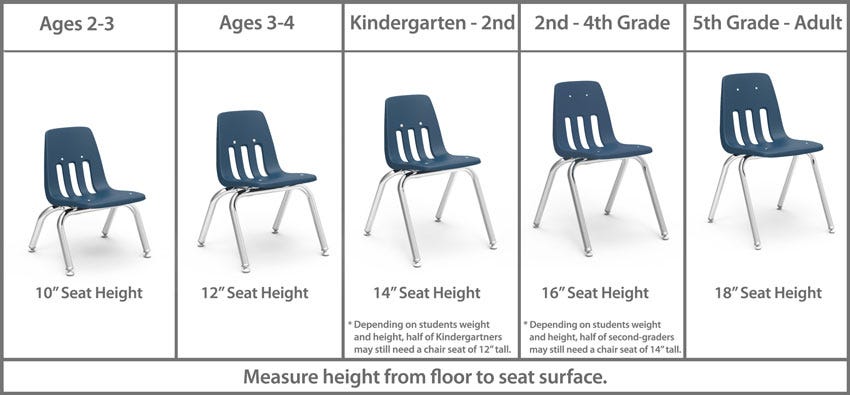 What Are Common School Chair Leg Style Variations?
Most school chairs feature 4-leg, sled base, or cantilevered leg frames. Each frame type may have different options that make contact with the floors: nylon glides, felt glides, or caster wheels. Glides on a 4-leg chair are the most common.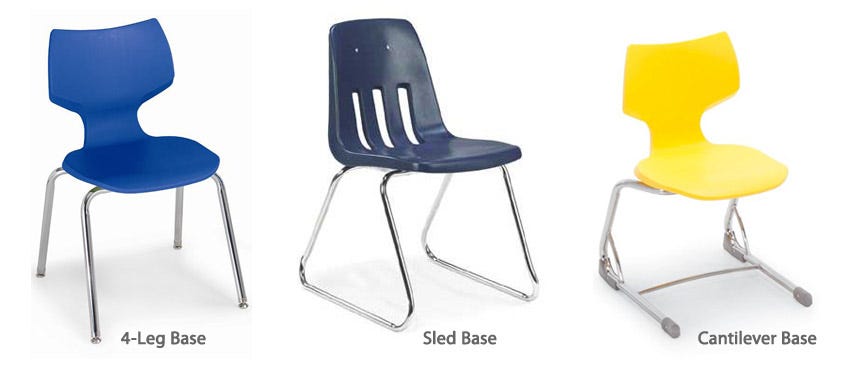 Nylon glides are ideal for reducing noise, and felt glides are great for protecting hardwood or VCT floors. Caster wheels offer mobility; you find them most commonly on chairs in computer labs and classrooms with collaborative desks that utilize a fluid classroom layout. Sled base chairs have two continuous leg frames on each side, as opposed to four separate legs. Cantilevered chairs allow for ample leg room and easy ingress and egress. 
What Are Common School Chair Combinations?
To save money and space, many schools have outfitted classrooms with school chair combinations. The most common one is a combination of a chair and a desk. This prevents the school from needing to buy separate chairs and separate desks and is a more convenient option for many reasons. The desk is usually a small square attached to the chair with an opening on one side for a student to slip in. Tablet arm chairs are also ideal for seminar style classrooms, band halls, or testing centers where only a small desktop area is occasionally needed.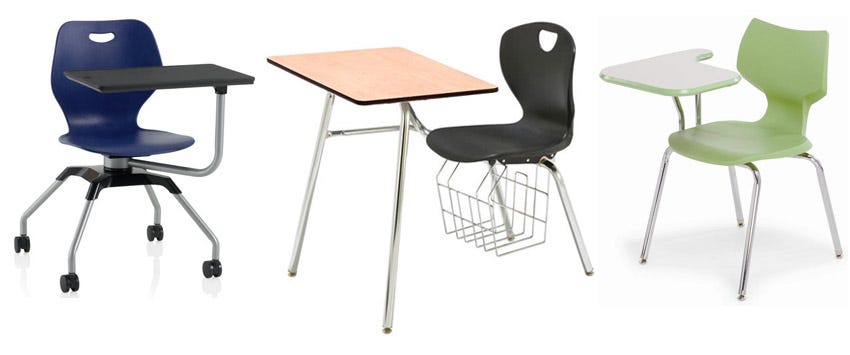 What Are Common School Chair Materials?
Manufacturers use many different materials use to make school chairs. Some of the most common materials are metal, wood, vinyl, fabric, and plastic. The material on the chair is a central factor in both the comfort and the durability of the chair. You often find more durable chairs made of metal or wood in elementary classrooms, for example, because they can withstand the abuse that the children may inadvertently inflict.
What Are Common Metal Coatings for School Chairs?
The two most common types of metal coatings for school chairs are chrome and powder coat. There are many reasons school chairs may have metal coating. One of the reasons is aesthetics. A metal coating makes the chair look more finished. The more significant reason, however, is function. Metal coating can help protect a chair from scratches and other damage. Powder coat finishes are usually available in a variety of colors. 

If you have any questions regarding the classroom chairs sold on the Worthington Direct website, contact our knowledgeable customer service team at 800-599-6636, use live chat or email sales@worthingtondirect.com.
Top Brands for Office Chairs:

Virco       Smith System       Scholar Craft       Marco Group      KI