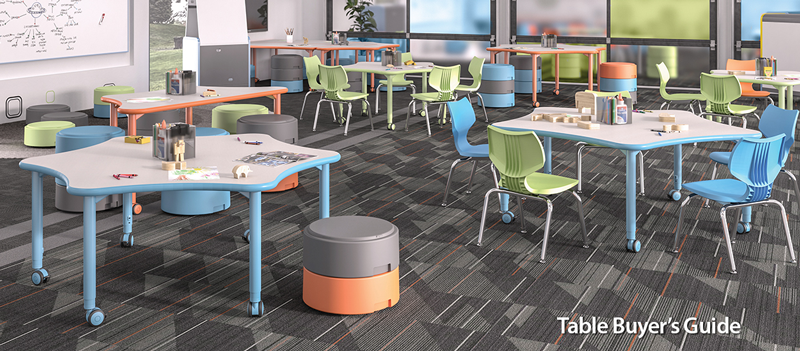 What Should be Considered When Buying a Table?
Looking for new tables to enhance your space? The right tables can significantly impact a room's functionality and usability. If you're buying a table for a classroom, collaborative setting, conference room, cafeteria, office, science lab, computer lab, or library, consider your requirements. Select from a variety of styles and shapes based on your needs, including traditional rectangle tables, horseshoe, and kidney. Each shape has distinct functions, ensuring that you'll discover the ideal table at Worthington Direct to suit your space.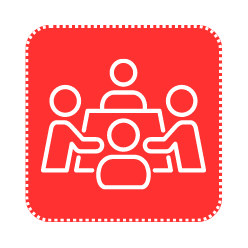 Think about the specific uses for the table.
Consider the space required for each person to sit comfortably at the table.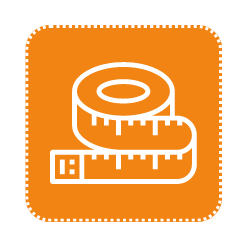 Determine how much space you'll have to accommodate your new tables.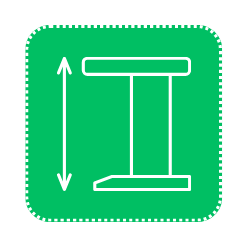 Discover if fixed height or adjustable height tables will better suit your needs.
What Are the Common Types of Tabletop Materials?
Tabletops come in a variety of different materials depending on the table's purpose. The most common tabletop materials are particle board core with laminate tops, plywood core with laminate, blow-molded plastic, ABS plastic, solid wood, resins, and welded fibers. Consider the durability and longevity of your tabletop materials before you make your purchase. Make sure the material is appropriate for your intended use.
High Pressure Laminate (HPL) Tabletops
HPL tops are created by a two-step method of bonding the finish and back layers to the core materials using glue and pressure. This process forms a table surface that is extremely durable and will not bubble up when exposed to water. Tables with HPL tops are available in a variety of color choices and have a completely smooth finish. Popular in classrooms are dry erase markerboard tables that can be used with erasable markers for working out problems and tutoring.
Blow Molded Tabletops
Likely the most inexpensive tabletop option, blow molded plastic resin tables are extremely lightweight and can be easily set up and stored. Often the material found on common folding tables, their plastic surface can take food spills and other messes and can be easily cleaned. Blow molded tables are typically round or rectangle and have a slightly textured surface and this should be taken in account when placing these tables in areas that will be used for note taking or other writing exercises.
ABS Plastic Tabletops
ABS is a thermoplastic that is lightweight and durable enough to be used to make football helmets. ABS plastic tables have interior framing made of plywood, steel, honeycomb or more ABS plastic. The interior frame provides superior strength not found in blow molded plastic tables. These tables also have a slightly textured surface but generally weigh a little more and offer more stability and strength than blow molded plastic resin tables.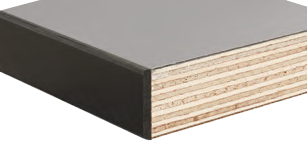 These reliable tabletops have a plywood core at the center and can have an HPL or a natural stained surface. They are lighter than particleboard, which makes them much easier to set up and break down. The lighter the weight of the table, the less likely damage can occur from slight impacts or bumps when moving the tables or during the initial delivery. Plywood-core folding tables are perfect for banquet rooms or fellowship halls that require frequent movement and offsite storage.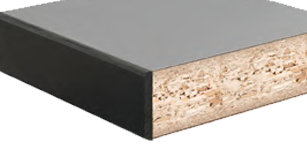 Particleboard is composed of wood chips glued together under pressure to create a high-density board. Particleboard tables can range from 3/4" to 1 1/4" in thickness and generally have a high-pressure laminate surface. Due to their higher density, they weigh more that plywood-core or plastic tables and are best used in spaces that require little movement. Particleboard's weight anchors them more securely in place and is a reliable standard for classroom activity tables.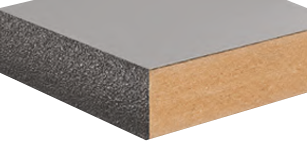 Medium Density Fiberboard is a composite wood product made from fine wood fibers mixed with resins and adhesive agents, compressed under high pressure to create a dense and uniform board. MDF has exceptional strength and stability, making it less prone to warping, splitting, and cracking. Its smooth surface allows for easy painting and finishing, providing a consistent appearance. It is essential to note that MDF is not as strong as solid wood or plywood, and it can be susceptible to moisture damage.


How to Determine How Tall a Table Should Be?
The height of your table can be a major consideration when determining which type to buy. Tables come in both fixed and adjustable options from floor, seated or standing heights. Consider the age and average height of the people who will be using the tables, whether they need to be ADA accessible, and their intended purpose.
Standard height tables are typically 29 inches to 30 inches and can accommodate the majority of seated users. For working height tables or standing height tables, the range is usually anywhere between 36 inches to 42 inches high. If you already have seating, consider that it is recommended to have between 10 inches to 12 inches of clearance between the top of the seat to the table top for adults. When purchasing tables for preschool to elementary students, a clearance closer to 9 inches should suit most. Always use a tape measurer to visualize when in doubt.
What Are Common Table Leg Options?
A table's strength and durability are only as good as the sturdiness of its legs. Table legs come in a variety of materials and height options, as well as the number of legs and how they support the table. The most common table leg options are the standard four-leg classroom table legs, T-shaped pedestal tables, H-shaped, X-shaped, folding legs, and stationary legs. Common table leg materials are wood and metal.
How Do You Determine the Necessary Capacity Needs for a Table?
Table capacity refers to how many people can use the table at once. Determining the necessary capacity is paramount to purchase the correct table size and layout for your space. Table capacity depends on the average number of users, space constraints, alternate uses, weight capacity concerns, and the size of your tabletop. Seating capacity depends on the purpose of the table and the amount of space each user will require. Figure out the number of users and the tables' functions before you can determine capacity needs. While it's simpler to gauge the number of required chairs for traditional round and square tables, it can be trickier with unique shapes like hexagon, trapezoid and half-round. Our table capacity chart is a valuable tool to assist you in accurately estimating the space required for your table's dimensions, making the process smoother.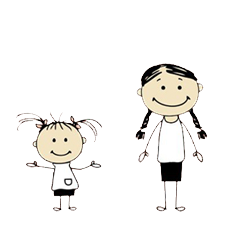 9" - 14" Chairs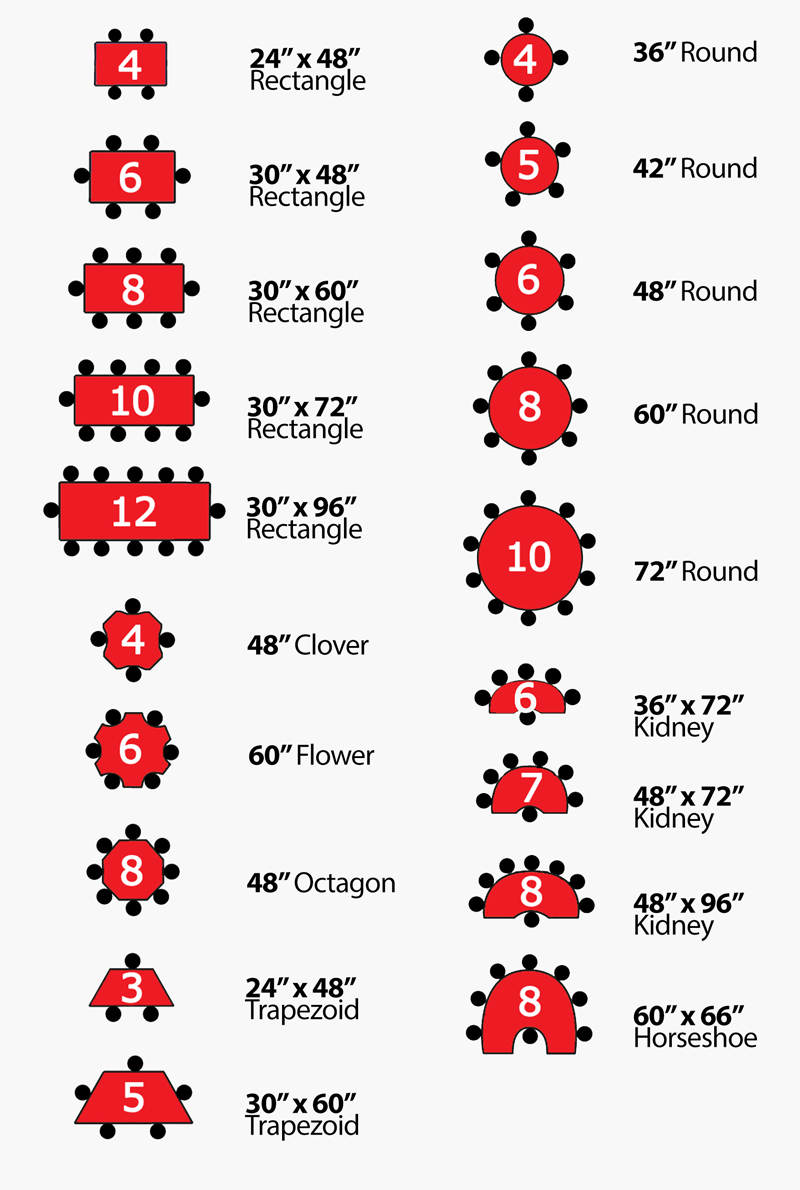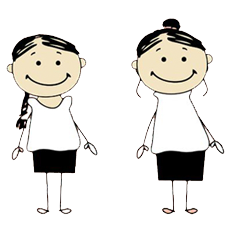 14" - 18" Chairs