How to Choose the Right Magnetic Whiteboard
At Worthington Direct, we offer various types of magnetic whiteboards to meet your needs.
"Great," you might be saying, "But how do I know which one will work the best for me?" You are always welcome to reach out to us with any questions, but in the meantime, we created this guide to help get you on the right track. These 5 magnetic whiteboards offer something for everyone.
The mountable Magne-Rite Markerboard with Presidential Trim by Best-Rite offers great quality at an affordable price, and is available in various sizes.
You won't have to worry about ghosting with this easily-erasable magnetic whiteboard. Featuring rounded aluminum trim in silver or black, this stylish markerboard is made of PVC-coated steel laminated to 1/4" MDF board. Its smooth, low-gloss surface provides a high contrast surface for any color of marker. Additionally, it doubles as a magnetic bulletin board!
The Magne-Rite Markerboard with Presidential Trim comes equipped with a matching magnetic Q-Tray to store markers and supplies for easy installation.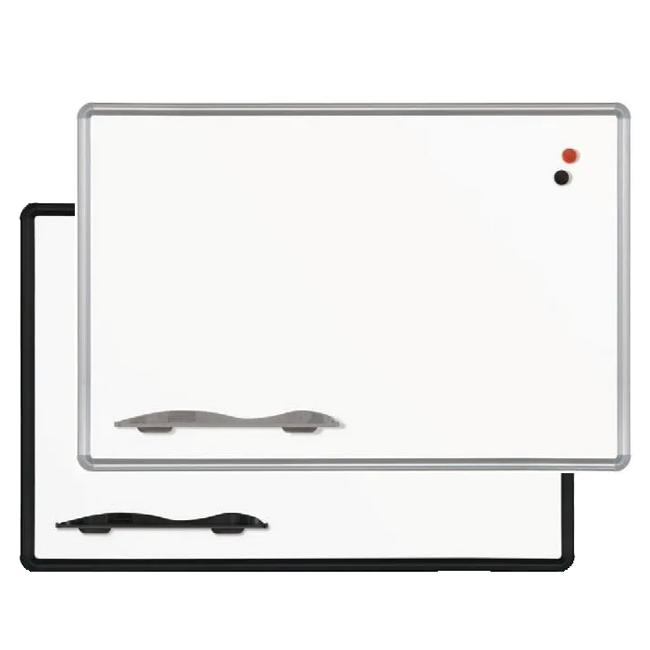 Best for High-Volume Spaces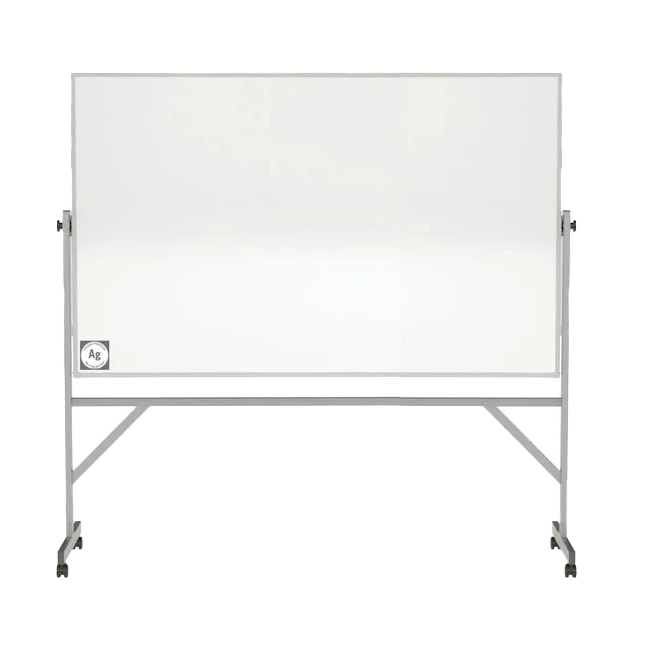 The free-standing M4 Hygienic Mobile Porcelain Magnetic Reversible Whiteboard by Ghent is perfect for teachers working in high-volume or flexible spaces.
We know that in these times those high-volume spaces are especially important to keep sanitized and germ-free. That's why the M4 utilizes Micro Silver technology, which releases micro silver particles that eliminate viruses and bacteria. Also, the satin aluminum frame is designed to be exceptionally easy to clean.
The M4 is magnetic and durable, resisting ghosting and scratching. The board can be flipped to double your writing space and is kept safely in place by its locking reversing mechanism. The M4 is proudly made in the USA and comes with a full-length accessory tray.
The Modern
Not to brag, but we can't get over the look of the Visionary Magnetic Glass Whiteboard by Best-Rite.
This sleek, modern whiteboard is designed to last and comes with a 50-year guarantee. Easy to clean, it is compatible with a variety of materials including dry/wet-erase markers and grease pens. Made with eco-friendly, temper-hardened glass, the borderless, seamless Visionary Magnetic Glass Whiteboard adds modern, timeless beauty to any space.
The Classic
Seeking the Platonic ideal of a whiteboard? You've come to the right place.
The Best-Rite ABC Magnetic Porcelain Steel Whiteboard has a standard gloss dry erase surface with superior color contrast, superior writability, and superior erasability. You can erase this board with an eraser, a dry cloth, or even a tissue. This mountable magnetic whiteboard is Greenguard Certified, Class A Fire Rated, and comes with a 50-year guarantee. It's a classic for a reason.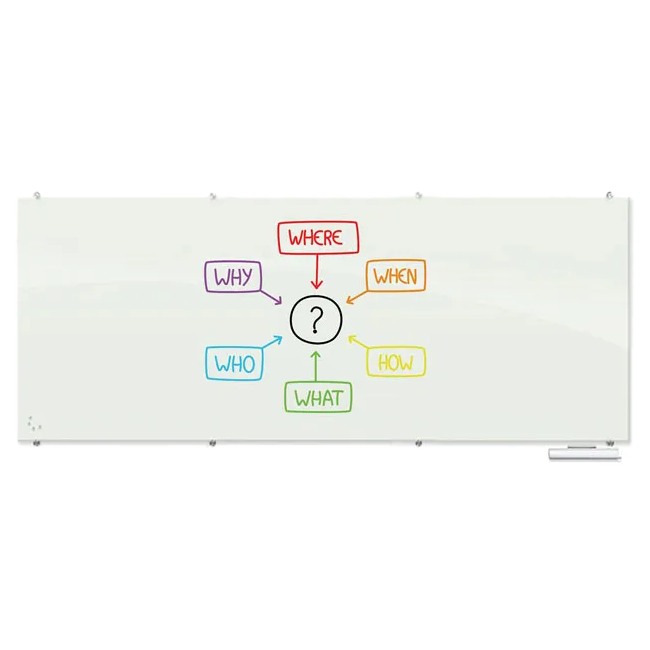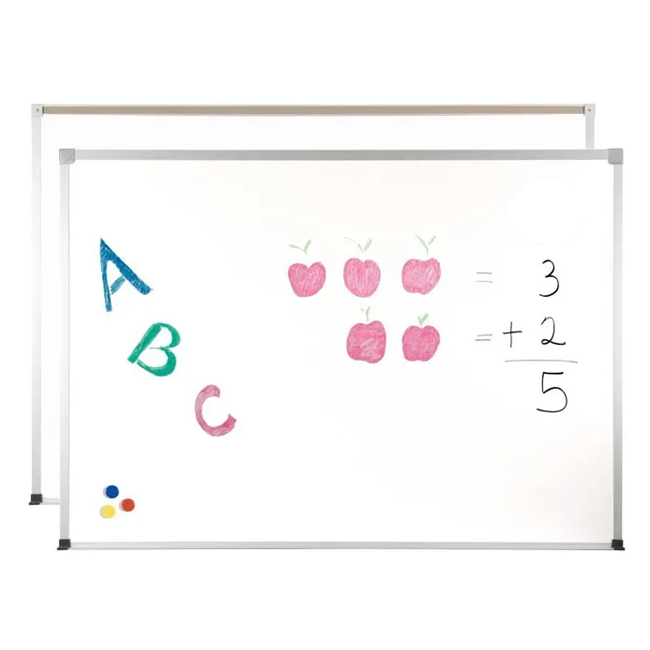 Caprock Furniture's Porcelain Steel Magnetic Markerboard comes in a variety of sizes and is an ideal choice for larger classrooms and boardrooms.
No need to worry about scratching or ghosting with its porcelain-on-steel dry erase surface. Framed in anodized aluminum, this gentle giant comes equipped with an accessory tray that runs the length of the board. Not only is it magnetic, but it also has a 1" colored cork map rail. Markers and installation supplies are included. You might run out of things to write, but you won't run out of whiteboard!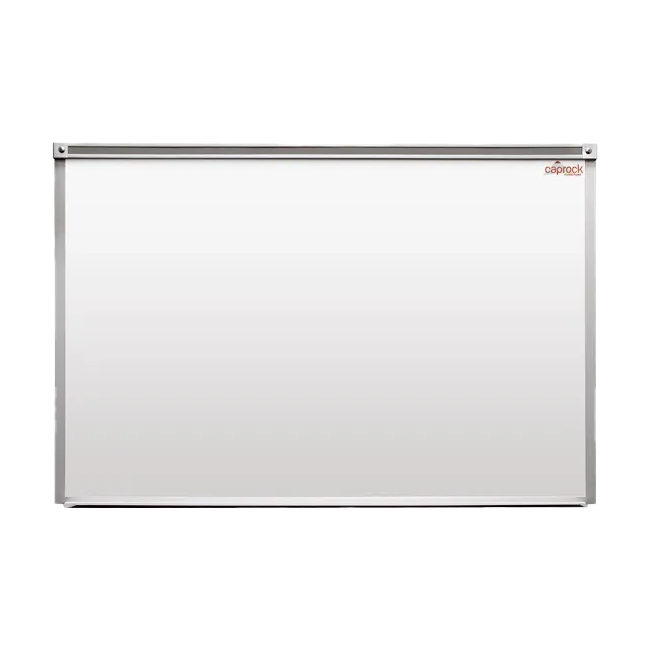 We hope this helps you get started on finding the best magnetic whiteboards to suit your needs. Please contact us with any questions about placing your order.