Whiteboards, also known as marker boards or dry erase boards, have become the standard writing surface used in most classrooms today. Designed to serve many purposes, whiteboards come in multiple sizes and capabilities, from large wall mounted boards to mobile dual-surface boards. Before purchasing a dry erase board for your classroom, review the following quick facts.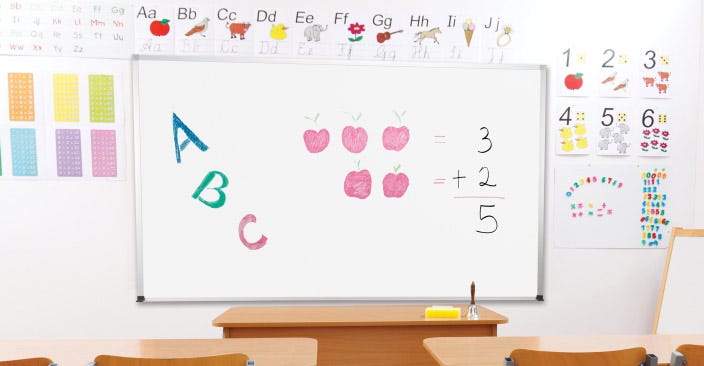 Review Dry Erase Board Material
The materials used to construct a dry erase board can greatly affect the durability, versatility and cost of each board; therefore, it's essential to learn about the different materials used to create a whiteboard's writing surface. There is a hierarchy of quality in the various writing surfaces made, with the low-end surface considered to be melamine and the high-end surface being porcelain steel. The most common dry erase board surfaces include: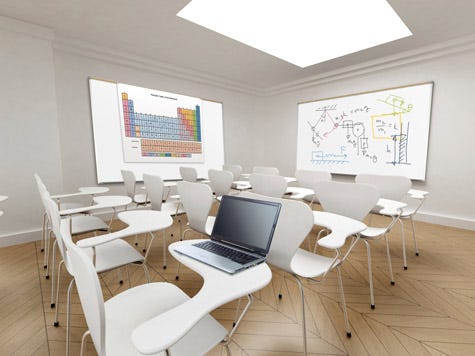 Melamine. Dry erase boards constructed with a melamine (or plastic) writing surface feature a clear-coat adhered to a ¼" hardboard substrate. These boards are inexpensive and are best in areas that do not require heavy use, such as a teacher's lounge or cafeteria room. While these boards can last for years with proper cleaning and light use, melamine surface marker boards usually only have about a 1-5 year warranty.
Magne-Rite. Magne-Rite marker boards offer a PVC coated steel surface bonded to a ¼" MDF backing sheet. With the addition of steel material, this marker board is magnetic and has added durability while still maintaining a low cost. The Magne-Rite board allows for smooth writing, and dry erase marker wipes off easily. Also, Magne-Rite boards include a 10-year warranty, which guarantees long term use.
Dura-Rite. These marker boards have a white high-pressure laminate surface that provides outstanding dry-erase capabilities at an economical price. The backing material is a ¼" MDF board and is non-magnetic. The laminate surface offers exceptional wear-resistance and will erase without leaving a trace, avoiding what is known as ghosting. Dura-Rite boards will handle moderate to heavy usage and comes with a 20-year guarantee.
Glass. More and more glass dry erase boards are being used when there is a desire to not just add a board to a wall, but to add style while still being functional. There are varying shades and opacities, as well as vivid colors to select from. Glass boards are tempered for safety, and are well packaged to arrive in perfect condition during delivery.
Porcelain Steel. Known for durability, porcelain steel whiteboards have an enameled porcelain surface fused to a steel backing sheet. These marker boards are magnetic and low-gloss to offer greater color contrast and easy erasing without ghosting. Porcelain steel boards are available in ¼" thickness or ½" thickness – which provides superior rigidity when wall mounted. These boards are more expensive, but will perform better in classrooms that require daily use and are backed with a 50-year guarantee.
Choose Your Mounting Option
Dry erase boards are available in a variety of shapes, sizes and mounting options. In most classrooms, marker boards are mounted directly to a wall and serve as a classroom's focal point. However, wall mounted boards are not the only option. Review the following mounting options before making a decision:
Wall mounted. Supplied with hanging brackets or L-clips, wall mounted dry erase boards are a practical addition to any classroom. Depending on your school's construction, mounting a dry erase board may require special hardware and equipment. Once secured, a wall mounted board can last decades, provided its surface remains intact.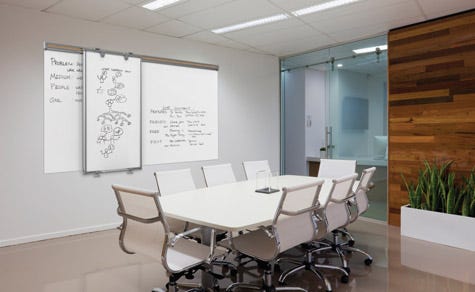 Removable. For educators in need of a less permanent solution, some dry erase boards are designed to attach to an existing chalkboard. Chalkboards permanently affixed to a classroom wall are easily upgraded to a dry erase board without a complicated installation process. Often a less expensive whiteboard option, removable boards are functional and portable in the classroom.
Mobile. Providing maximum flexibility in the classroom, mobile dry erase boards are sturdy, lightweight and usually feature locking wheels for added security. Available in multiple sizes, mobile dry erase boards often feature a reversible board, allowing teachers to switch between a whiteboard and either a chalkboard or corkboard. Ideal for rooms with little wall space, mobile dry erase boards can be used in the classroom, conference room, or at home.
Multi-Purpose Dry Erase Boards
Wall mounted boards can take up a large wall surface area in an office or classroom, so incorporating a dry erase board that serves muliple purposes is ideal. Think about your intended purpose first, but then ask yourself "Is there a time when it might be nice to have the added bonus of one of these additional features?" :
Magnetic Boards. Adding an additional element of interaction to lessons, magnetic dry erase boards are perfect for teachers who use alphabet, number, shape, or other magnets in the classroom.
Projection Boards. If your space is sometimes, or a lot of the times, used for audio-visual media viewing purposes, then consider a projection friendly board. These boards have a more matte finish and are often grayish in color to reduce surface glare and provide optium contrast for projection media. Projection boards are usually thicker so that they have zero deflection and are prefectly flat to provide the best viewing surface possible. Due to the matte finish of these boards, they do require more frequent cleaning to keep the board performing optimumly.

Combination Boards. Unlike reversible boards, combination boards are sandwiched or flanked by two additional surfaces, usually chalkboards or corkboards. These extra tackable spaces or writing areas make it more comfortable for students to participate in solving problems. Additionally, teachers can transition smoothly between ideas without stopping to erase or tack supplemental materials for handy reference.
Sliding Whiteboards. Smoothly transitioning from one lesson to the next can be difficult with a limited amount of writing space. Sliding whiteboards, designed to move across a larger board, offer additional writing surfaces without the need for additional storage space.
Graphic Dry Erase Boards
No two classrooms are alike; therefore, think about your classroom's specific needs. Depending on your students' age, the subject taught and classroom space available, the following purpose-specific graphic surface dry erase boards may be ideal:
Music Sheet. From basic music classes to advanced lessons, dry erase boards equipped with permanent music lines enhance teaching and learning. Helpful when composing music, boards featuring music sheets allow for revisions without erasing the staff.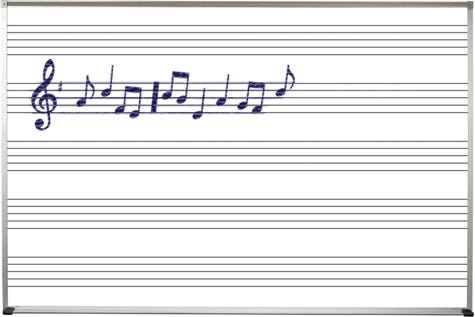 Penmanship Lines. Elementary and kindergarten teachers benefit from dry erase boards with permanent penmanship lines. Particularly useful when modeling proper penmanship, these boards aid students in learning how to form letters while simplifying lesson provision for educators.
USA Map. From geography to U.S. history, dry erase boards with a built-in map of the USA are useful when learning the states, settlement patterns and the location of historical events. Use this type of dry erase board to enhance history education and serve as an in-class resource for U.S. geography.
Coordinate Lines. Between solving math problems and plotting graphs, dry erase boards modeled after graphing paper simplify learning and illustration. Whiteboards with coordinate lines are ideal for math, science and art classes.
With so many general purpose and specialty dry erase boards available, finding the right one for your needs is simple.
Maintenance & Cleaning Requirements
Because the warranties on dry erase boards vary from 1 to 50 years, it's best to establish good cleaning and maintenance habits to maximize the life of your board. Follow these tips to keep your dry erase board like new: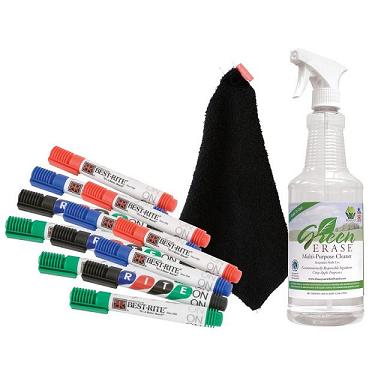 Use the correct markers. Designed specifically for dry erase markers, dry erase boards do not provide the same result when a permanent or washable marker is used. Prevent ghosting and staining by using dry erase markers only. Low-oder markers are not suggested for heavy use as they typically are more difficult to erase cleanly.
Review cleaning instructions for your board. Depending on the surface of your board, cleaning instructions may vary. While some boards call for a special cleaning solution, others only require water and a paper towel. Typically, porcelain steel surfaces require little cleaning, whereas melamine or laminate boards must be cleaned shortly after use to avoid ghosting.
Wipe off writing daily. A good habit to start, wiping off writing daily will help keep your dry erase board looking new. To ensure boards are clean, designate one student per class to clean the board before dismissal.
Keeping your dry erase board clean guarantees optimal performance for years to come.
A Dry Erase Board for Every Need
Whether you teach kindergarten or college courses, dry erase boards are convenient, cost effective and easy-to-use learning aids. Available in a variety of sizes and functions to suit your teaching style and needs, whiteboards have become a staple of the modern classroom.
Find the perfect classroom dry erase board today. Browse Worthington Direct's extensive online inventory of dry erase surfaces.