Stacking Chairs Buying Guide and FAQ
What Is a Stack Chair?
A stack chair is temporary seating that can be made of a wide variety of different materials. One of the major advantages to using stack chairs is that they are easily stackable, so they can be stored in a closet or the corner of a room. Many stack chair models have some type of upholstery on the seat to make them more comfortable.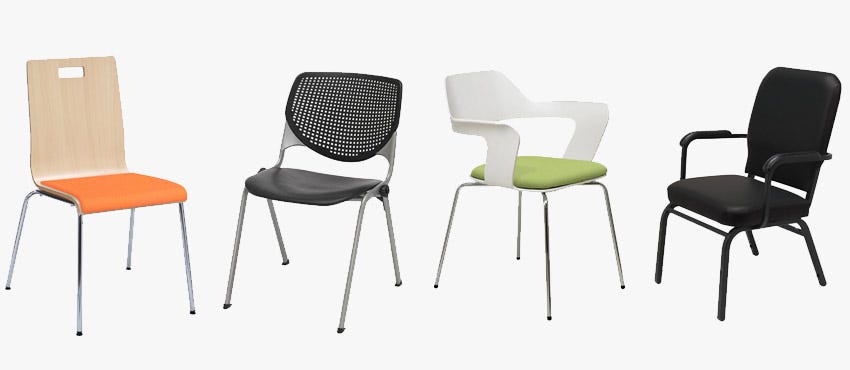 What are common stack chair variations?
There are a variety of different types of stacking chair variations to fit the variety of uses they have.  Variations may include:
Armless – A very common style of stack chair and typically weighs less making them more convenient, but slightly less comfortable for long format uses.


Arms – A more comfortable version of a stack chair, but does typically weigh more than their armless variation.  This style is much better for long format uses where users will be seated for more than an hour at any given time.


Plastic Seat and Backrest – These are typically the more affordable and common variant.  While the plastic seat area is typically contoured to provide slightly more comfort, it is still not the best for any long format uses.


Padded Seat and Backrest – This is a much more comfortable variant of the stack chair.  These, even an armless version, are better for longer format uses.  High-end versions may even include leather instead of fabric and could even include memory foam padding over the more common generic foam filled versions.


Wooden Seat and Backrest – These may work with your décor more, but often are even less comfortable than the Plastic versions and can often be the heaviest variant of stackable chair.




What Are Common Stack Chair Upholsteries Materials?
Like folding chairs, stack chairs are useful, because as their name suggests, you can stack them on top of each other and stow them away. There are a variety of options for stack chairs, most of which have upholstery. Some of the most common upholsteries used are vinyl, fabric, plastic, and wood. There are many different factors that determine which chair is ideal for certain situations, but upholstery is one of the most significant.
What Are Some Common Uses for Stacking Chairs?
Stack chairs are ideal in any situation where you need the option to clear the area and store the chairs somewhere. They work for both indoor and outdoor events. Some of the most common uses are for choir concerts, classrooms, wedding ceremonies, graduations, and banquets. Stack chairs are great for an event that requires temporary seating.

What Are Common Stacking Chair Padding Materials?
Unlike folding chairs, most stack chairs have some type of padding on the seat, making them generally more comfortable. The most common padding materials are foam, memory foam, and cotton fill. Depending on the type of padding on the seat, stack chairs have the potential to be extremely comfortable temporary seating for any event.
What Are Common Indoor Uses for Stack Chairs?
Stack chairs are ideal for any event in which you need temporary seating that you can quickly and easily clear away. They are often used for indoor events such as conventions, indoor concerts, weddings, banquets, and any other event that hosts many people. Stack chairs for classrooms are lightweight, and students and teachers can rearrange them easily.

What Are Common Outdoor Uses for Stack Chairs?
Along with indoor events, people use stack chairs for outdoor gatherings as well. They are ideal, because they provide comfortable seating for all the guests, while also being easy to move to and from an area before and after an event. Some of the most common outdoor uses for stack chairs include graduations, parties, and outdoor weddings.
What Are Common Industries That Use Stack Chairs?
Due to their comfort and convenience, a wide variety of companies from many different industries use stack chairs; they are ideal for any situation where you need temporary seating for a large group of people. The education industry, the party planning/hosting industry, and various other businesses frequently use stack chairs.
What Are the Common Stack Chair Material Variants?
There are many kinds of stack chairs. The features and materials that differ between various models' center around the seating material. Many stack chairs have upholstery on the seat and different kinds of padding such as foam, memory foam, and cotton fill. There is also vinyl upholstery that is ideal for restaurants because they are easy to clean. Others have plastic seats. These are more affordable and extremely lightweight.
If you have any questions regarding the stacking chairs sold on the Worthington Direct website, contact our knowledgeable customer service team at 800-599-6636, use live chat or email sales@worthingtondirect.com.