Stage & Riser Buyer's Guide
Properly furnishing a performance space may seem daunting, but stages and risers by AmTab, Midwest Folding Products, and National Public Seating are designed with the versatility and safety your institution requires. We understand that purchasing staging and performance equipment is an investment and the following guide is designed to help you make the best decision for your next band concert, graduation or special event.

Standing Risers

Designed for standing performers, standing choral risers are the shallowest risers available. Performers stand beside each other in line on tiered sections up to 32" high, ensuring all performers are seen and heard.



Straight: Take full advantage of a large performance space with straight risers.

Tapered: Choose tapered risers for full size choirs with limited performance space.

Modular: For quick setup of multi-tiered choral layouts, modular choral risers use features like built in wheels, gas springs, and various folding points to aid in portability and fold down to small footprints for easy storage.

All choral risers can be outfitted with unique deck tread surfaces, back, and side rails for safety.


Seated Risers

For large choirs and bands, or assemblies, seated risers offer added depth and weight capacity to accommodate many performers. Achieve a variety of sizes and heights with standard square and rectangular stages and risers. Elaborate upon these with supplemental pie and wedge pieces. Built in coupling allows for effortless expansion and unique configurations while maintaining maximum visibility for the audience.

Fixed Height: Fixed height stages can be used for more stationary installations like assemblies in which the risers do not require frequent adjustment.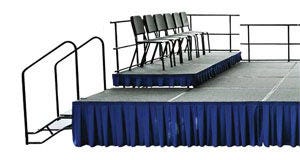 Dual Adjustable Height: Shared performance spaces often require risers set to different heights for different performance types. Adjustable height risers allow for easy transitions from one performance to the next using the same risers rather than having to change out various risers set to fixed heights and include transport wheels to aid in movement.


Seated Risers

Seated risers fold down to narrow can be easily moved and stored on riser dollies. Perimeter factory installed Velcro paired with the proper length skirting gives seated riser set-ups clean, finished looks. Stair sets with handrails allow for easy and safe accessibility.

All seated risers can be outfitted with unique deck tread surfaces, back, and side rails for safety.


Deluxe Seated Risers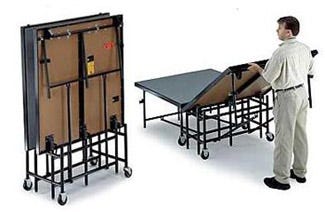 The added depth mobile stages provide expands upon the high weight and performer capacity of seated risers. Mobile stages accommodate larger groups and even physical performances in much larger spaces with the same deck tread as the smaller riser options. Mobile stages are outfitted with wheels and fold for easy storage and allow for single person set-up. All deluxe mobile stages can be outfitted with unique deck tread surfaces, back, and side rails for safety.


Stage Sets

Stage sets take the guesswork out of ordering components to construct the ultimate performance space. Stage sets allow for a basic circular shapes or even large elaborate arc shapes. Stage sets are comprised of guard rails, stairs, adjustable height risers of various sizes, skirting, and dollies for transport. Everything required for a complete stage build.


Deck Surfaces

Hardboard: Solid plywood makes for a basic, yet extremely durable surface and is usually the most economical option.

Polypropylene: Durable textured plastic creates a non-slip surface and is well suited for outdoor applications.

Carpet: With a variety of colors to choose from, a decorative option also makes for a quieter surface and is desired for indoor applications.


Accessories

Complement any stage configuration with stage and riser accessories like skirting for a finished look. Add chair stops and guard rails for added safety. Stairs make even the tallest stage sets easily accessible. Help performance leaders remain visible over performers' music stands by using platform risers as a condutor's podium.

Stage and Riser storage dollies aid in transportation and storage of your stage components. Enhance even the audience's line of sight with easy to transport mobile bleachers.

We have trained customer service represenatives avaiable to help make your stage and riser purchase easier. Feel free to contact us using our live chat feature, by phone at 800-599-6636, or send us an email with your project details at [email protected]