School chairs are a core product found at Worthington Direct. We are experts at classroom seating and offer a large selection of chair options that support a comfortable and engaging learning environment for both students and teachers.
How to select the best school chair?
The best classroom chair will depend on comfort and needs of your student body, durability, flexibility, safety and price. By choosing a chair that provides proper support and features, students can sit comfortably and focus on their studies without distractions. Schools must also consider the budget available and the on-going maintenance and cleaning.
What is the right classroom chair size?
Having the right size school chair will promote good posture and may reduce unwanted fidgeting. School chair sizing is listed by the distance from the top of the seat (where your bottom sits) to the floor. To determine what size is needed by your students, measure the distance from the back of their knee to the floor while standing. That distance should roughly correspond with a chair size.
Not all students are the same size, but as a rule of thumb, it's better to size up than down when it comes to all chairs and seating. Worthington Direct's general recommendations for classroom chair sizes by grade:
10" Chairs = Toddler ages 2-3
12" Chairs = Pre-K ages 3-4
14" Chairs = Kindergarten to 2nd Grade
16" Chairs = 2nd Grade to 4th Grade
18" Chairs = 5th Grade and up through Adults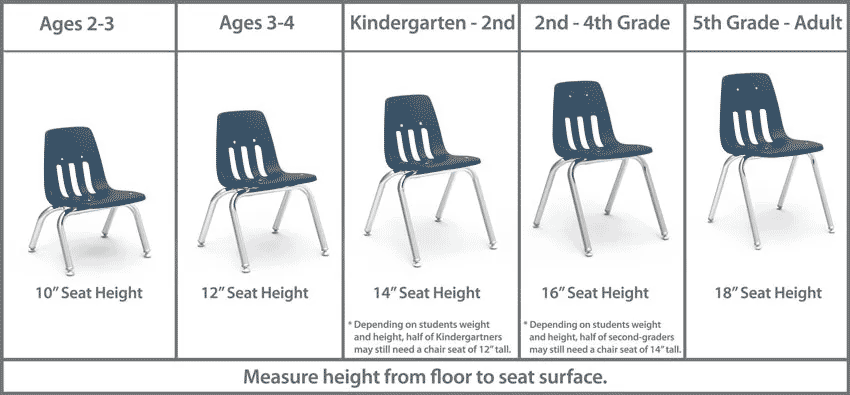 School Chair Features
Chair Materials: Most school classroom chairs are made with polypropylene plastic seat buckets and metal frames. Polypropylene is a soft plastic that allows a slight flex for comfort, but is still maintains its shape and is durable for daily use. Most soft plastic school chairs have a slight texture to avoid slipping and sticking. Solid Plastic chairs are have formed hard plastic seats and backs that do not flex, but are extremely durable and their smooth surface is easy to clean.
Seat Contour: A chair with a contoured seat and backrest can help provide proper support and reduce pressure points. Waterfall seats mean that the front of the seat is rounded to relive leg pressure. Some modern school chairs such as the Flavors line, feature flat seat pans which allow students to sit in multiple directions when collaborating.

Student chairs should be cleaned regularly to remove dirt, dust, and grime. Chairs that feature "ribless back" designs have fewer nooks and crannies to clean.
Mobility: Many schools have embraced collaborative learning styles, and chairs with caster wheels are key to allowing students to arrange in groups and collaborate. Most school chairs offered by Worthington Direct have matching mobile chairs to choose from.
Types of School Chairs
Stacking Chairs: Traditional 4-leg stack chairs are the most popular design, but sled base and cantilever school chairs are also stackable options to consider. Stackability is important for storage and daily cleaning.
Flexible Seating: Active seating is a popular option that allows for slight movement by the student. Wobble stools allow students to move and shift their weight while seated, promoting improved circulation, core strength, and focus.
Other types of flexible seating, such as floor rockers, cushions, and classroom soft seating, allow students to sit in different positions or postures, providing a more comfortable and engaging learning experience.
Need help ordering school chairs?
Our school furniture experts are here to answer any school chair question or to help you decide which chair is right for your campus. Our website is full service and can accept authorized school purchase orders. We can also provide volume quotes and offer the best school chair pricing possible.